PSOREX
PSOREX LOTION 350ml
Hypoallergenic and richly moisturizing lotion
for the skin with excessive keratin and inflammation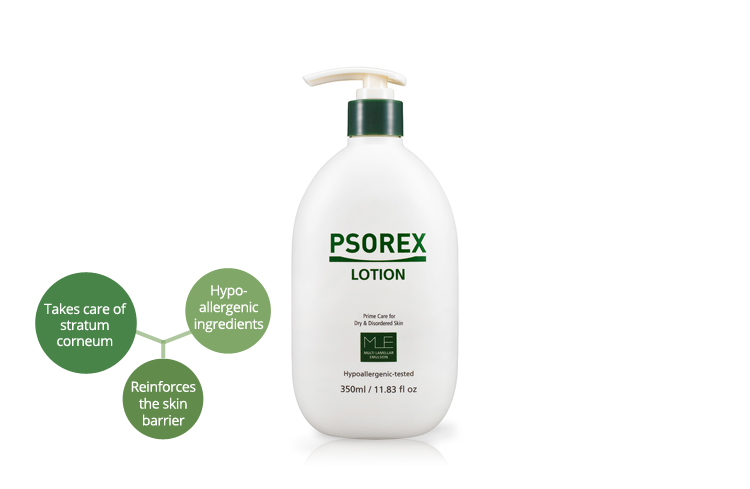 MLE similar to ingredients and structure of skin lipid helps improve skin barrier.

Patented ADfence-P® takes care of chronic excessive corneocytes(dead skin cells) and alleviates itchiness caused by dry skin.

Skin friendly mild formula allows quick absorption possible without leaving a greasy or a sticky feeling.

Main ingredients
MLE formula (contains ceramide-9S)


recreates the ingredients and structure that are similar to the skin lipid and reinforces the skin barrier function.
ADfence-P®
comforts the skin that has turned red because of related problems.

Safe prescription

no added : fragrances / dyes / ethanol / parabens / phenoxyethanol / PG / PEG
Hypoallergenic tested (testing agency: U.S. AMA)

How to use
Dispense the right amount several times during the day and evenly apply onto the parts that need to be moisturized, such as the face, arms, and legs.

Adjust the amount to use based on the skin condition and continue using it even after the skin normalizes to keep it healthy.

It is most effective to use a moisturizer within three minutes after taking a shower. We recommend that you use the cream on the most exposed parts, such as the face, and the lotion for application on wide areas or the entire body.